Information Center
View all categories
Follow Us
Mobile Website
MODULAR BLOCK
---
---

MODULAR BLOCK
Ordinary modular block
1, unique size, special structure, reasonable force. After testing and engineering practice, its physical and mechanical performance indexes are excellent, better than other similar wall materials.

2, the construction is convenient, reforming conventional mortar technology, using tenon, by lightweight aggregate grouting after stacking, then the wall forms a network structure to improve the rigidity of the whole wall, and is conducive to cracking, seismic.

3, load-bearing walls can be configured with steel bar according to the design requirements, and form pin key to improve the structure force performance, can meet the needs of various types of building walls.

4, the wall surface is neat and smooth, reducing the plastering thickness, increasing the effective use area, so the comprehensive economic efficiency is improved.

5, quick construction, shorter construction period, reduce labor intensity, improve work efficiency.

6, using industrial waste, saving land resources, is an ideal alternative to clay brick products.
自保温模卡砌块 Self insulation modular block
1, the main raw material of self insulating concrete modular block is cement and sand. Molded or extruded polystyrene for insulation are main insulation material, made with a special process, the block capacity is 900-950kg/m³.
2, the insulation material is placed inside, forming one integral with the block, after building wall, protected by the concrete block, its durability is equal to that of wall or even building, can greatly reduce the maintenance cost of post insulation.
3, mature supporting technology, perfect technical specifications, can satisfactorily solve the cold-bridge problem of beam, column and plate, comprehensively enhance the comprehensive energy saving effect and economic benefits of the overall wall.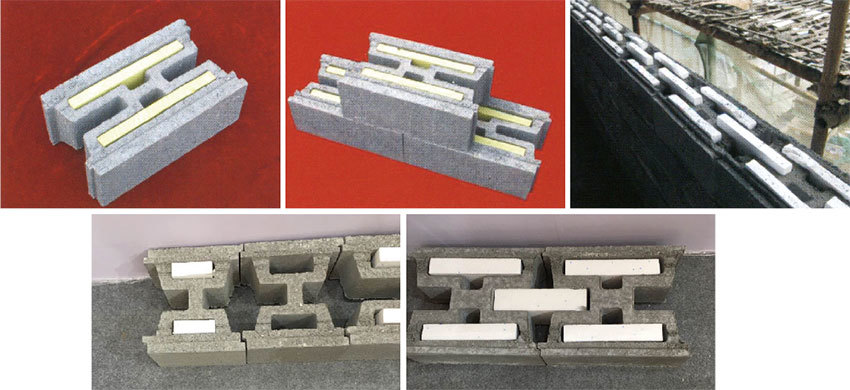 ---