Information Center
View all categories
Follow Us
Mobile Website
Vertical and roof greening
---
---

ROOF AND THREE-DIMENSIONAL SYSTEM TECHNOLOGY

Roof and stereoscopic systems technology

In order to maximum alleviate the conflict of building and ecological greening, and meet the needs of ecological insulation energy saving on building roof, we developed "YZS" the key technologies of lightweight pervious concrete combined with light recycled nutrient soil, to solve the problems like roof greening light weight, water, drainage, ventilation, nutrition, which is the most advanced ecological technology in the field of low carbon building.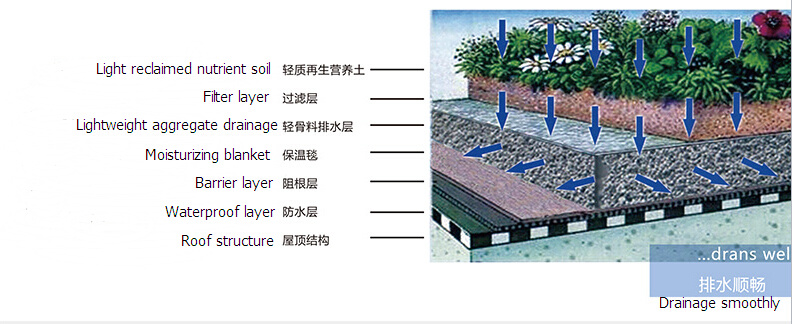 Core technology
Light reclaimed nutrient soil:

the waste residue produced by carrageenan production, mainly composed of perlite and seaweed mud and other organic matter through a variety of beneficial bacteria composting process, is a lightweight porous organic soil ecological health, has good air permeability, water permeability, water and fertilizer retention and excellent heat insulation performance.
Lightweight aggregate drainage:

A lightweight porous high-strength aggregate made of a lightweight porous cement concrete material, lightweight aggregate has good water retention, porous structure and excess water discharge, prevent plant root rot.
Barrier layer

Waterproof coiled material for selecting effective plant root puncture.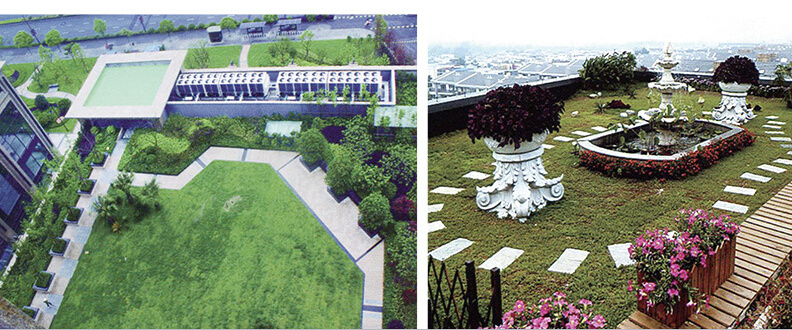 Roof and stereoscopic system technology

How does a green roof collect rainwater?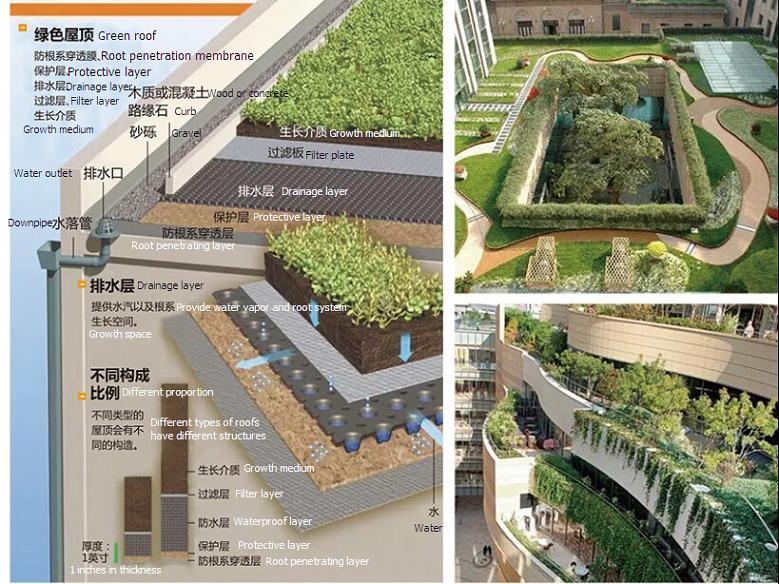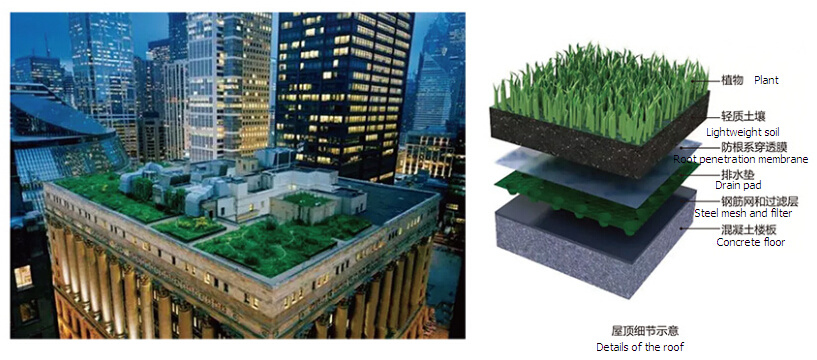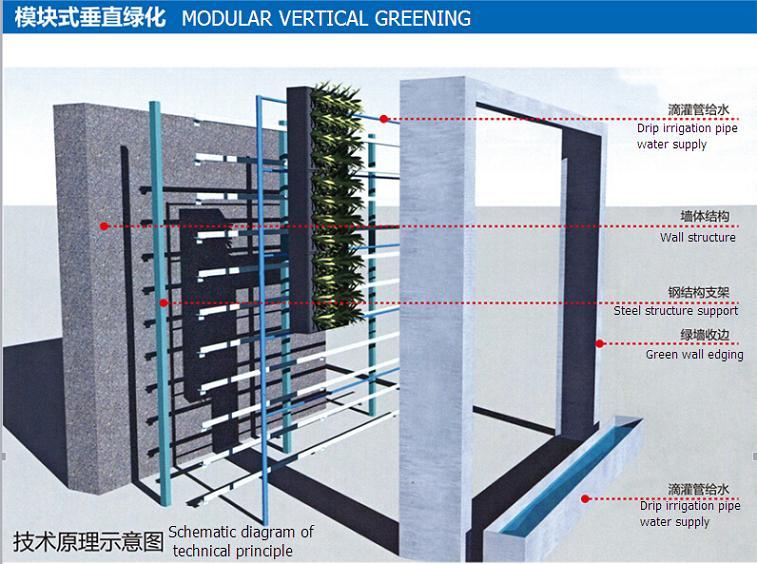 Technical characteristics
1. high project quality, excellent landscape effect;
2. high plant coverage rate, and high survival rate is ;
3. the variety of plants that can be used is rich, and the art of plant landscape is lively and changeable;
4. simple construction, high efficiency;
5. easy to change and easy to maintain.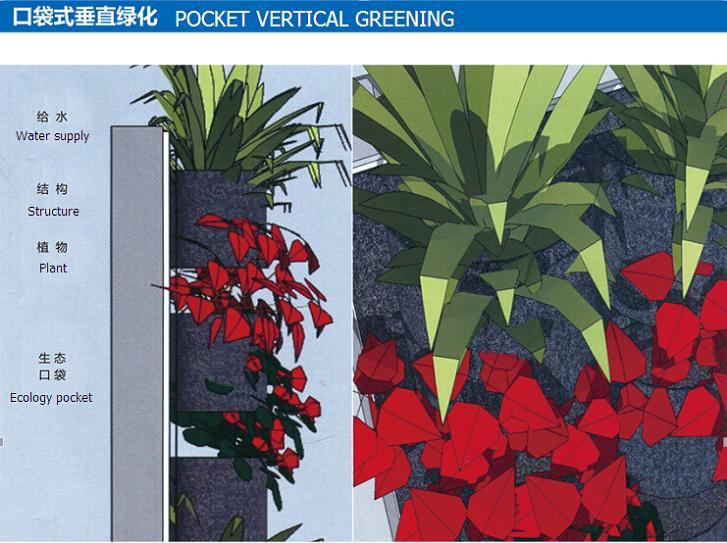 Technical advantages

1. convenient construction, site installation and planting;
2. the variety of plants is rich in choice;
3. the coverage rate and survival rate of plants are higher;
4. low project cost;
5. light weight per unit, green wall thickness is thin, suitable for the appearance of curved surface modeling.

Application analysis

To create a new ecological environment with the concept of three-dimensional greening is the best practice of sponge city construction in the city, helping the city to take the lead in the new round of development.
The three-dimensional greening only occupies the space, while does not occupy the plane area. the three-dimensional afforestation way becomes the new choice of ecological city construction (in the city In the city, the green area of the building can be almost equal to the green area of the ground.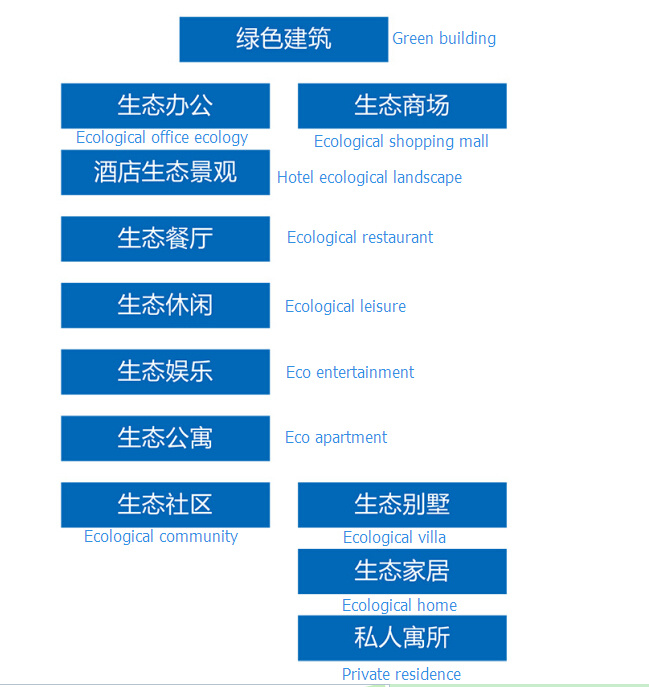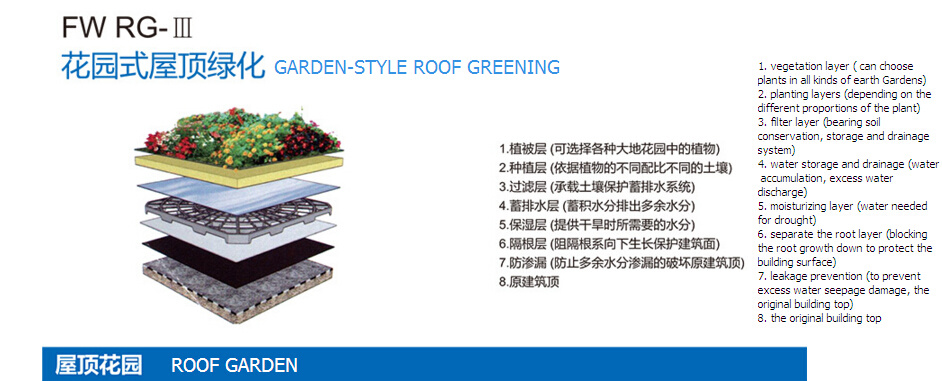 Roof garden takes full advantage of every inch of space in limited space and provides places for activities, such as relaxing, enjoying the scenery or expanding indoor living space. As higher and closer to the sky, people here can breathe clean and fresh air unlike the noisy cities.
In the green heaven of the busy city center, all the green is more expensive. Every tree and every flower looks different. The atmosphere and color become richer every season.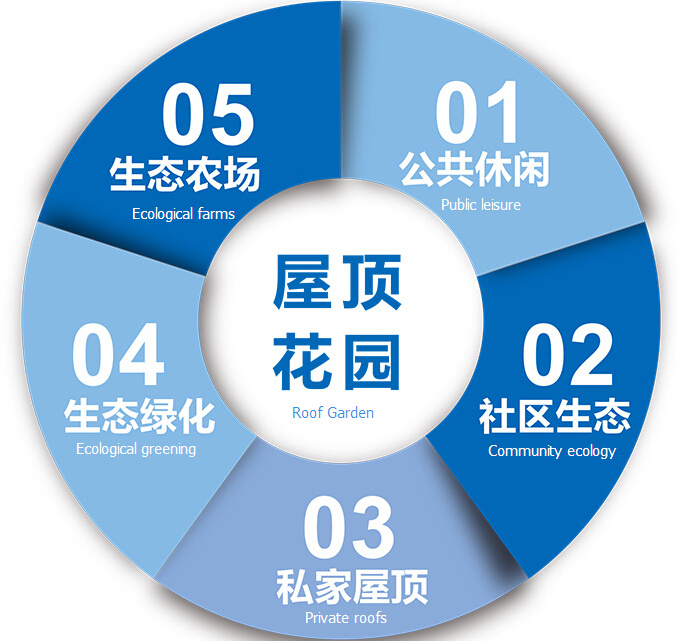 ---